Top 5 Wireframing Tools for Web Designers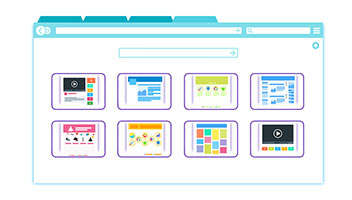 Defining the website's hierarchy, where one can only see a set of gray boxes filling out the page of a website is what wireframing is all about. According to web developers, the process of building a website is simplified due to initializing with the concept of wireframe.
Looking up for setbacks in their initial approach, web designers are able to advance with a right note by concentrating exceptionally on the layout and structures. The visual details will gain much more worth if it is based on a solid foundation.
Web Designer's Definition: What is Wireframe?
'An architectural blueprint or a low-fidelity representation of a website constitutes a wireframe'. For back-end developers, it's an objective they have found that is allowing them to have a more well-defined approach towards the same.
Here are those 5 wireframing tools that should be utilized in the early phase of a web development process.
Mockingbird

One of the best, easy-to-use wireframing tools, Mockingbird is a web-based application that is utilized for creating wireframes and mockups.
What makes this wireframing tool so popular is the drag-and-drop interface, the UI elements can be easily and effectively placed in the required positions. And if you have any notion of creating a very large website then Mockingbird tool is surely your best option.
Through a simple tab system, the web designers can easily create multiple pages that can be inter-linked and rearranged as per the requirement.

Lovely Charts

A simple web-based diagramming application, Lovely charts allow web designers to create wireframes and sitemaps with an amazing finesse. With only a few features to its credit, this application is all about reducing the complexity involved in a web design and web development process.

Drag-and-Drop Option

It has become a standard following I guess, because, we can see that almost all the tools are supported with this feature. The wireframe can be easily filled in with elements through this simple, easy option.

Export

Once a diagram is written, it can be smoothly exported to other image formats like JPG, PNG, and PDF.

Cacoo

Cacoo, an online wireframe tool allows real-time collaboration and can be integrated seamlessly with Google Drive, Google Docs, and others.
Sitemaps, network charts, UML, well this wireframing tool makes a perfect resource for the web designing team. Apart from real-time collaboration, designers can also export the images to PNG format.
Through providing a security feature, this wireframing tool stands above the rest. The Drag-and-drop feature, I don't think I should tell about this option as I feel that it has been made a standardized feature in every tool.

Gliffy

With a valuable access to dozens of shapes, one can expect nothing but a precise mock-up of the website design or an application.
Web designers have that privilege to add Gliffy diagrams to their existing applications through the Gliffy API (beta). Be it any platform, or, any location, the Gliffy wireframe tool will allow you do anything or everything in an economical way.

Lumzy

A mockup and prototyping tool, Lumzy comes with few, but very best key features including real-time collaboration and clickable prototypes.
Expect nothing but a smooth course; under prototyping, the designers can actually add actions and events to have a working version of the final product. As a web designer one should feel relieved because, without actually writing a single line of code he can actually expect to witness the rich simulation process.