How to find a budget Website Design Company?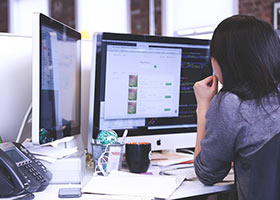 'Go with the technology, stay within the budget', wow, looks no less than a good quote, but is it so easy to find a website design company that will fit your budget?
Online business has always been challenging, and miraculously one cannot expect to find resources so easily considering today's market. But then, even a budget constraint company seeks for quality services to have a potential growth rate.
Whenever we visit a web design and web Development Service Company, it's a common sight of we people doing the math of how much it may cost us for seeking their service. It's a natural human activity, and not to forget that these websites would have provided us with well-decorated pricing plans, so how should one decide on choosing a web design service company?
Should we focus only on the pricing page? Or is there anything that we should keep in mind apart from the cash that would be spent?
Factors weighing a good Website Design Company
Compare the pricing models of web service companies, a common and the easiest procedure that one needs to follow. What will you get? One, you will be satisfied to find a company who is offering to provide service at a very less cost.
As usual, my only question, will it do any good if it's only the budget that is being protected? What about your business goals? Is there any guarantee to reach that objective when you are focusing only on the budget?
Things you should consider if you are planning to seek services from a web designing company.
The Credentials

Know something about the company you are approaching, they may have good offers, but make sure that you're getting something valuable out of it. Look for testimonials, agencies backed with clients will always have a good reputation for the services they provide. In simple words, look for positive client feedbacks.

Expertise & Experience

Most of the times, the years of valuable experience accounts for the expertise that one might possess. Startups, few in thousands may be worthy enough to be approached but is never a safe option. So, make sure that you are having someone from old school to backup your ideas and vision.

Goals & Deadlines

Suppose your service provider could not meet the deadline, who is going to pay for that? Even if you decide to come out of the project, you have to shell out 2X, to whatever was decided.
So, any web design company you choose should be capable of managing any last-minute changes without incurring delay or the overhead costs.