UX Design principles: 5 Things to follow while designing a Travel Website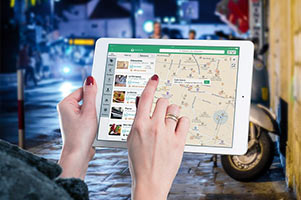 As a seasoned web designer, you should know that for any traveling website the things start from its homepage. Numerous aspects come into play, the UX design, leave it, the layout which you design should be both simple and sophisticated.
Confused? It should be simple in terms of usability and sophisticated in terms of entitlements. We have numerous travel websites out there, each of them giving hundreds of deals and packages for its visitors, but not every website is earning the right profit. Do you know why?
It's the usability factor, yes, how well or how easily can a customer use the website. These usability factors are dependent on the UX design principles that are used. A visually attractive website alone can never retain the presence for a longer time unless it is coupled with a simple navigation structure.
Finding & Managing: The Defining UX Designs
Do not give a tough time for your website visitors; make their call to your website a smooth one through simple design structures.
Say no to jargons and be straight to the point with a simple content. Make sure that there is no language barrier, which can actually reduce the possibility of users limiting the stay on your website.
5 Key UX Design Principles to Practice
Search Filters

Seems the most basic element of a website, yes, certainly, but what issue can arrive with this? When people want to get away from their daily boring life, they want everything ASAP. Right flight, proper hotel, well truly how fast they want access we will never know.
People look for minute details that require advanced filtering options; it's like searching for a needle in a haystack. Allow the visitor to easily choose various search parameters through simple mega menus, from date selection to locking on to the number of people, make the process an effortless one.

Navigation Structure

It is a well-known fact that navigation affects the overall conversion rate, so like I explained before; make the search bar more visible and include a clearly defined menu. A list of popular cities along the side bar is definitely a good inclusion.
A good navigation structure can be considered the backbone of every successful website; its characteristics are defined by its simple and distinct model. Finally, it all trickles down to the approach that you take for the UX design principle.

High-Resolution Images

Stock images filled website is no good compared to a dull, lifeless one. Promote local or international attractions through high-quality images rather than a purely text-based content. Also, give a value added space for your customers by allowing them to upload their travel pictures from around the world.
Stats show that high-quality images influence the website visitors for further actions. UX design principle is not limited to how a person is able to access but also how much he is impressed with the visual aspects as well.

Content & Extensive Listing Database

Let the visitors get access information on the local cuisine, places to visit, near-by-locations, and much more in a compelling manner. The places they want to visit make it more exotic and adventurous through your creative campaign.
Let your website serve more as compared to what an average website can offer. Extensively use the action verbs and activate the energy of your possible customers.
One of the main criterions while selecting a travel package is the pricing, which plays a major role in converting a simple visitor to a loyal customer. Now to assist you with the long list of pricings, access to the database is the best and smart move.

No Extra Data Fields

Have you ever wondered why people abandon the websites even before completing the process? Think of the forms, the unnecessary details that need to be filled out, obviously no one will have that patience or time for such activities.
Give your customers the best user experience by maintaining the relevancy of website requisites.
Possible travelers or globetrotters abandon the booking process without much of a thought. It is a logic that they can easily find the same on numerous other websites. But as a businessman, you cannot afford to lose such valuable leads to some mere factors, which can be easily achieved.