The Importance of Minimal Coding in Website Development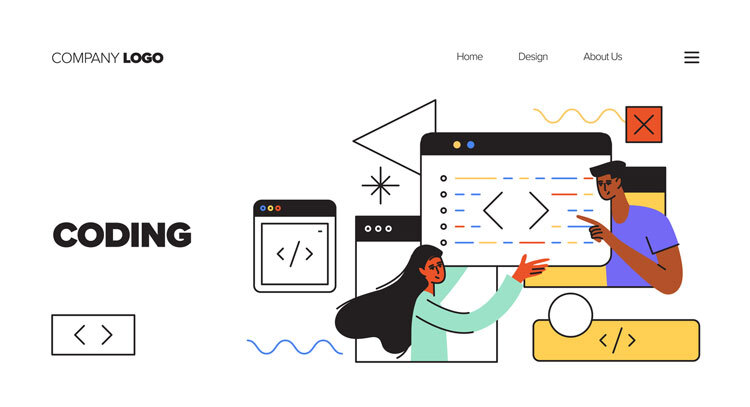 Owning a website has become an inevitable aspect of owning a business. With the emergence of several platforms where you can build a website, most do not require you to know how to code anymore. Website development companies often use site-builder platforms to build functioning websites without any website coding. As a website developer providing user experience outsourcing services, even if you are not highly experienced in coding, knowing minimal coding will help you build better websites.
People love responsive websites, and to achieve that responsive and fast website status, knowing minimal coding is a necessity. However, even if it's just HTML coding, it is more than enough to give a website a personal touch.
Importance of knowing Minimal Coding
As a web developer, you might have wondered why it is essential to know at least a little bit of coding. Every day hundreds of thousands of websites are launched onto the internet globally, so almost all the websites will be competing against each other to rank high on the search engine result pages. So, if you are planning to pursue your career in web development, it is the right time to learn some hands-on coding for experience and skill.
Here is how coding can help improve the performance of a website:
100% control: When you build a website that requires coding, you retain 100% control over the design and layout. You do not have to choose from an existing theme or design to build the website; you can add customised services and pages that you like. In addition, unlike site-builders, when you change your hosting platform, when you code a website, you would not require to start from scratch again.
Relevancy: As a website developer, when you use a site builder platform, your client will feel like they could have done it themselves without wasting their money. Knowing at least a little bit of coding and using the coding in the websites you build will build your relevancy in a cutthroat industry. It will also make your clients feel like they were not wasting money when hiring you.
Originality: It goes without saying that when you use a site builder to build clients' websites, you will be repeating the designs because they have limited options to choose from. There is no originality or customisation you can apply to these designs. Building a website from scratch with your own coding makes each website unique and attractive.
Code understanding: When you design a website and do coding on your own, you will write each line of code, making it easier for you to go back and make changes whenever necessary. It will also help you change the design to stay updated with market changes. You will also be able to overcome any issues with your website when you do the coding yourself.
Affordability and security: While many site builder platforms claim to be free, your client will still need to pay for plugins and additional services. Building a website from scratch with coding means there are no hidden costs, and your client will be happy with it. It is also more secure since you would not have to use third-party apps for certain services. Unfortunately, site builders also use almost the same code for all the sites, making it an easy target for cybercriminals.
Conclusion
These are some reasons why knowing minimal coding is important if you plan to pursue your career in website development. While it is a cutthroat industry, talented people who can make a site look unique and interesting is always in demand. In addition, with new businesses emerging every day, business owners are always searching for web development professionals who can make their websites stand out among their competitors.