What are the best Digital Marketing tools?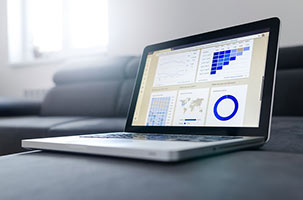 Digital marketing tools have become the greatest asset for organizations in designing the marketing strategies. Even with such huge quantum of a move towards digitization, some people may think twice before switching to a new channel or optimize their traditional marketing campaigns. Preferably, I would definitely proceed with my question, so people with such apprehensions would get over such conservative approaches.
What is the probability rate of doing a great business if you are still sticking with traditional marketing campaigns?
My advice, analyze the current marketing trend before pushing digital marketing campaigns as some passing fad.
Digital Marketing Vs Online Marketing
Probably these are the most frequently misused terms. Practically, it is quite necessary to understand which term is the subset of what. Go through the following table and get a clear picture about the relation between online marketing and digital marketing.

To be more specific, digital marketing campaigns are not completely dependent on the internet. Promotions through mobile applications or simple promotional texts through mobile phones don't require internet. Online marketing, however, demands otherwise. We can take online marketing as the subset of digital marketing. You can also include search engine optimization, social media marketing, and email marketing into the list.
The word 'digital' does have a lot to offer in terms of marketing, so let's us go through few digital marketing tools that you should be aware of.
Top 4 Digital Marketing Tools
GOOGLE TRENDS

It is a tool that gives an insight on popular search terms and trends. Google trends help understanding search patterns of users on local, national, and global scale.

– It is a perfect modern tool in SEO point of view.
– Provides access to a graphical format of how a keyword/keyword phrase evolved over years.
– You can find information on popular searches in various categories across diverse industries (specific country).
– Analyze keyword popularity with reference to the relative time frame.
– Gives a better cognizance about the audience as well as competitors.

GOOGLE KEYWORD PLANNER

Is it not a feature in the Google Adwords?
Yes, it is. Let's see how a Google keyword planner can help us in digital marketing.
How do people search for a car service if they need one? If you focus, you may see them using location, street, or something that pinpoints to the concept of long-tail keyword. Research, utilize the keywords and the audience will automatically land on your website. Google keyword planner helps in finding these key phrases or keywords.
Key takeaway?

– A perfect tool for remarketing, building search network campaigns.
– Find how your potential customers are searching (services/products) on Google.
– Build the website content around these keywords.
– Easily create Adword campaigns.
– Modify the targeting country for a better insight on keywords (local & global SEO).
– Access to historical statistics and traffic forecasts.

AHREFS

A competitor research tool and SEO backlink checker, Ahrefs lets you find out how your competitor is being so successful in attracting the customers.
What can you measure/do via Ahrefs?

– Keyword Research
– Competitive Analysis
– Rank Tracking
– Content Tracking
– Web Monitoring
– Backlink Research

Steps Involved:

– Kickoff with the seed keyword.
– Generate a list of relevant keyword ideas.
– Use keyword research tool and analyze keyword metrics.
– Group the list of keywords (based on parent topic, business value, and the intent)
– Prioritize

APP ANNIE

A free tool, App Annie is an app ranking, analytics, and market intelligence platform, which is designed with an analytics dashboard. (Source: mobyaffiliates)
Be it a competitor or your own customer, easily get access to information on downloads, revenue, search terms, and the DAU/MAU ratio (daily active users to monthly active users).
Understand your market, improve your search engine rankings, and of course, outrank your competitors.