Magento Vs Opencart, Which is the best E-commerce Solution?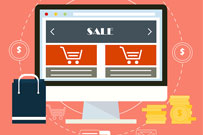 An ecommerce business can be the most unsecure vision, if not backed with proper web solutions. For an ecommerce website to develop successfully it is necessary to have enough visibility and a favorable SEO ranking.
In this blog we are going to learn about Magento and Opencart, the two most popular ecommerce web solutions and their importance in online market.
What is Ecommerce platform for an online business?
As said earlier, it is necessary to have a secure platform, where one can efficiently conduct their business without any setback. Numerous Ecommerce platforms are built by web developers to make this business more resilient and manageable. But it should also be known that one size does not fit all, that is, a particular ecommerce web solution cannot be a perfect platform for all kind of business requisites.
Magento & Opencart- Which is the best?
Before deciding on the best, first you have to determine what your need is. Based on the complexity and requirements of a business, one can decide on which is the most dependable among these two.
Magento and Opencart are the two open-source ecommerce platforms, built for managing online stores. So let us go through the features of each of these platforms in detail.
Customizability-

One of the most important factors in an ecommerce business is customization, which is always related to scalability. With growing business needs, one should have enough leverage to expand their horizon. Comparatively, Magento seems to be the most reliable option over Opencart.
From design to layout, the flexibility offered by Magento is huge compared to Opencart. For enterprises that expect a commendable growth in its revenue should opt for Magento to easily manage the incoming organic traffic.

SEO Compatibility-

One of the most important reason's on why you have to choose Magento over Opencart will be explained in this section. SEO, which is considered the heart and soul of digital landscape is efficiently favored under Magento.
From supporting customized search engine friendly URLs; Meta description to image optimization, Magento fairly gains an upper hand over Opencart.

Installation & Setup-

As an amateur, you may find Magento a bit overwhelming over Opencart platform. Even though the former one is not easy-to-setup, it offers numerous options that can provide the best user-experience.
One of the best examples to support this account is Magento offers secure payment option that supports PCI data security standard.

Hosting & Pricing Options-

Surely under this section, Opencart has managed to gain an upper hand; however, it is perfect only if you are already having a website. Magento on the other hand is not free of cost, and still manages to shine due to its compelling advantages.
For a growing business Magento is the best option because, if you are migrating your website, then you get have a free 30-day trial, which, is not available under opencart. Also, under Magento Go, the hosting solution is free, whereas Opencart websites require separate hosting plan.
Final Thoughts
In general, Ecommerce platforms enable you to develop customizable online stores which can propel your performance progressively. If you have a small business, then Opencart is sufficient as well as reliable. But for a large organization, Magento makes a perfect option due to its configurable options and advanced features.