Which is the best platform for E-commerce website in India?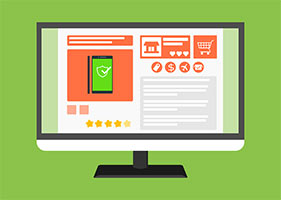 What is the ultimate way to start an E-commerce business in India? Of course, have a beautiful website, which is built on the best platform. An E-store that looks great and feels great will definitely help you to be the top online seller, be it India or in any where outside.
Why to setup E-commerce Business in India?
If you look into India's online marketplace, it is arguably the busiest place. Recent statistics forecasted that by 2020 the e-commerce business in India will reach $100 billion. Indians are slowly adapting to online technology and are actually enjoying a 360° comfort of shopping from home. So your journey as an entrepreneur should be solid in the world's fastest growing e-commerce market.
What's in store for the future you never know, but the eventual call to shape a better one lies in your hands.
Best E-commerce Platforms in India
Shopify

Why is Shopify so popular? The first and the best thing, it's a self-hosted e-commerce platform; do you need any more reason for going with it?
With over 100,000 e-stores under its umbrella, Shopify comes with logically structured features that allow for a stress-free setup. And the best thing is you don't have to be a professional or a geek to set up the Shopify website.
Professional templates, a good number of add-ons, well, with so many advantage you can easily build a highly functional e-commerce website.
Also, an added feather to the cap, an App store is available for Shopify, which makes it mobile-ready and most importantly future-proof.

BigCommerce

Fast, easy-to-use, the out-of-the-box benefits of BigCommerce are second to none. BigCommmerce can be used as a single hub for multiple retailers. Even with cutting-edge features, BigCommerce is one of the most affordable e-commerce platforms.
This platform comes with a vast number of design templates that are both free and paid. With these templates/themes one can easily build a customized website. Another important feature is the large App store, which shows that BigCommerce is a mobile-friendly platform.

Volusion

Build the store in no time, because Volusion includes everything from professionally-designed themes, custom domains to intuitive features.
A social store builder, Volusion supports businesses of all sizes. From small business to enterprises doing million dollar business can use this platform to run their business.
A highly reliable platform, Volusion comes with an easy to use interface and result generating SEO tools.

Zepo

Zepo is considered the best e-commerce platform in India. Why? You can have every tool, which is required for building a highly functional e-commerce website. The easy to use dashboard makes website management effortless.
Through the solutions available, the store manager can easily manage the front-end and back-end of the website. What makes Zepo the most powerful platform are its three cornerstones, which are the best technology, free payment gateway, and logistics assistance.

Kartrocket

A SaaS based e-commerce platform with payment gateway integration and automated shipping features, Kartrocket allows designing beautiful e-stores for online business.
The integrated shipping makes order management easy and hassle-free. Hartrocket has a feature-rich ecosystem as it includes responsive design templates, more than 150 features, applications, and over 15 payment gateway integrations for building a website.